other
Islands
There are over 200 "Outlying Islands" in Hong Kong, but only a few are inhabited or are interesting to visitors. Of course Cheung Chau is the most well known and important to visit, if you can go only to one then of course Cheung Chau is a must.
Almost all visitors to Hong Kong actually have seen one other, that is Lantau because that is where the Hong Kong International Airport is located.
Lantau - Visit the rural and traditional parts of Lantau, not the airport, by taking the Inter Island ferry from Cheung Chau which goes to Mui Wo. Although Lantau is by far the largest of the outlying islands it is lightly populated and most of the area is taken up by the country park, peaks and wooded areas. More about Lantau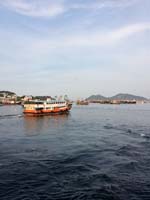 Peng Chau - An even smaller island, similar to Cheung Chau but quieter. It can also be reached via the inter island ferry.
Lamma - Medium sized with two distinct villages this island can only be reached directly from Hong Kong island, go to ferry Pier 4 for the ride, and is famed for seafood, hill walks and a slightly bohemian aired expatriate community. Lamma guide website