Hotels in
Hong Kong
Although there is a hotel on Cheung Chau and several other accommodation options, some may prefer to stay elsewhere in Hong Kong and visit Cheung Chau as a day trip. Here are a range of hotel choices in Hong Kong.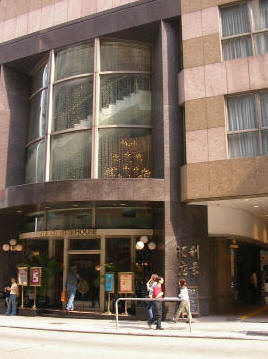 Charter House Hotel - This well established hotel in Causeway Bay (pictured) has a full range of facilities in a comfortable and lively hotel making it a favourite for visitors. The almost 300 rooms and suites over 25 floors that are decorated with class wooden highlights to fit in with the traditional feel of a neoclassical hotel that extends beyond the décor to the level of service offered.

Conveniently located for the Convention and Exhibition Centre there are free shuttle busses to and from every day making this an excellent choice for the business traveller. While the nearby shopping districts of Causeway Bay and Wanchai mean that all tourists can be catered for.

With restaurants, two bars and a lounge and fitness room all available to guests there are no shortage of things to do within the hotel as well. And unlike some hotels in Hong Kong the Charter House boasts free wifi for all guests.

Get all the advantages of a boutique hotel, without the price tag at the Charter House Causeway Bay!

Eaton Hotel - Conveniently located on Nathan Road with easy access to shopping and transport to business districts this is a great choice for the business traveler or the family vacation. With the Jordan MTR station just minutes away it couldn't be better placed. Offering complimentary Tai Chi classes and tours of the nearby Jade and Temple Street markets it is a one stop to suit all your vacation needs.

With a swimming pool on the roof and a fitness centre inside the building there is plenty of chances to burn of calories you may have picked up in their 7 bars and restaurants!
Conrad International Hotel - This award winning member of the Hilton group is located at Admiralty in central Hong Kong island, overlooking the Victoria Harbour on one side and the greenery of Hong Kong Park on the other. With award winning dinning options, and linked to the Pacific Place Mall with more dining and shopping options as well as a cinema. Enjoy the breakfast buffet in the hotel which features local Hong Kong favourites as well as western standard choices. Little touches such as a Rubber Duck for bath time or a Conrad Teddy Bear for children remind guests that this hotel welcomes families as much as the business traveller. A swimming pool and fitness centre complete this 5 star luxury option.