Streetview
by Google
Despite being a pedestrian-only island you can still use Google Streetview to explore much of our island as they have used their Streetview Trekker back-pack system to wander around Cheung Chau and capture many views which can be seen via Google Maps and Google Earth.
Not all the island is covered, and strangely some of the major routes are missing such as the very bottom of Cheung Chau Peak Road, however equally some interesting but remote areas are included such as the Italian Beach, even extending onto the sand itself.
Here is the view as you alight from the ferry pier which is a great place to start, while below are a list of some of the treasures of our island that Google have captured with their Streetview Trekker Back Pack!
View from Ferry Pier
View Larger Map
Highlights
Coverage
As you can see not all of the island is covered, this map shows, roughly, which areas have streetview images though if you zoom in you can see the blue lines do not match up accurately with the roads.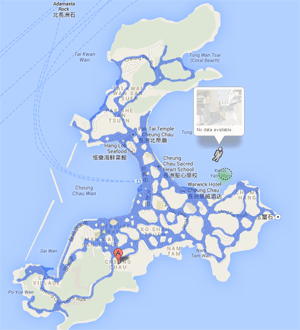 Contact us with any more special places you find of interest!